Inspection Services and Audits in Thailand
The Biggest Product Inspection Company from Asia

Inspection Services and Audits in Thailand
Dedicated Team of Local Full-Time Inspectors and Auditors
V-Trust Inspection Service in Thailand
In Thailand, V-Trust offers one-stop service for quality control, including factory audit, pre-shipment inspection, during production inspection, production monitoring and container loading supervision.
V-Trust typically inspects products in Thailand belonging to electronics and electrical categories; like computers, accessories, home appliance, lighting, etc. Also furniture, apparel, garments, and footwear categories have been consistently represented in our services. We also inspect a growing number of industrial products; engines, pumps, machinery, parts, and construction equipment, as well as raw material like rubber and plastics.
Values We Deliver for Inspections and Audits in Thailand
Only

full-time

local inspectors and auditors, no part-time or freelance, reducing bribery risks.
Guaranteed

all-inclusive

price of 268 USD per man-day in Thailand's manufacturing regions.
No extra charge for travelling expenses.
No extra charge for inspections on weekends.
Inspection reports delivered within

24 hours

after the inspection; Same day reports also available.
About Thailand
Thailand Key Numbers
Population
69,799,978 (2020)
GDP
$501.8 billion (2020)
Export
$258 billion (2020)
GDP growth
2.2%(Est 2021)
*Source 2020 World Bank Report.
A Leading Market
Thailand, as the second-largest economy in ASEAN after Indonesia, is an open country that encourages foreign investment and companies wishing to establish operations in the Thai market. All leading automotive and electronics brands from North America, Europe, and Asia, including Seagate, Panasonic, Mitsubishi, BMW, Ford, Samsung, Sony, Toshiba, and LG, have production facilities in Thailand.
This has allowed Thailand to develop a diverse network of supply chains for smart factories and industries that are technologically advanced, and have led Thailand to become the top automotive producer in Southeast Asia.
Challenges for the Thai Market
Thailand is a hub for big brand high tech manufacturers. Since these factories exclusively produce their own brand products, it makes private manufacturing less accessible for buyers looking for OEM/ODM orders. So when it comes to manufacturing products with your own brand and design, in comparison with the Chinese market, the variety of factories is limited, and the manufacturing abilities are not as prevalent.
V-Trust, Helping Buyers Sleep Better!™
V-Trust Inspection Service Group operates in Thailand to help overseas buyers select suppliers with confidence through supplier evaluations and overcome problems in product quality with product inspections and sample checks, while offering the advantage of a completely standardized quality control process with full-time inspectors and auditors only.
Highlighted Areas: 268 USD/Man-day (all inclusive).
Anywhere Else: 298 USD/Man-day (all inclusive).
No extra charge for inspections on Sat. & Sun.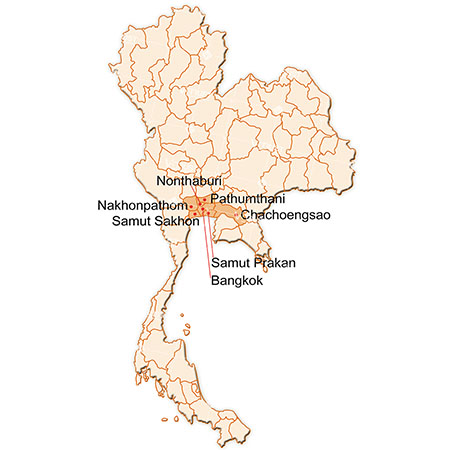 Bangkok | Chachoengsao | Nakhonpathom | Nonthaburi | Pathumthani | Samut Prakan | Samut Sakhon
Contact us now for more information about quality control or supplier evaluation in Thailand.