V-Trust Corporate Culture
Guided by Respect, Transparency, Collaboration, And Direct Feedback
Career at V-Trust
Headquartered in Guangzhou, next to the Canton Fair Complex, V-Trust is a successful, self-funded company that operates on a fully customer-oriented basis, and with an essential emphasis on personal development.
Spread throughout Asia, our team casts a wide net across a multitude of locations, lifestyles and backgrounds. It's our differences that make us interesting, and our shared belief in V-Trust's core values that binds us together.
V-Trust's culture is guided by respect, transparency, collaboration and direct feedback. We have no room on our team for disrespect, office politics or discrimination of any kind. We're obsessed with communicating with our customers as well as within the team. We hate bureaucracy and slow moving organizations. Here in V-Trust, success is measured by the value we create for our customers.
Working in V-Trust is not just doing a job. We understand your eagerness of learning and improving. Therefore:
We give regular training on technical knowledge and skills every month.
We encourage you to share your thoughts everyday.
We host internal experience sharing every week.
We organize large scale meeting every year.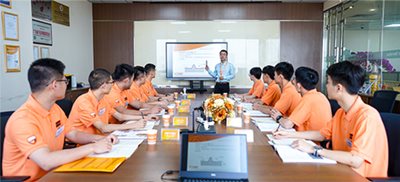 Improving Yourself on a Daily Basis
Working with us is more than just a nine-to-five. If you're up for a challenge, there are always new problems to solve. Love to create? There's an enormous opportunity to find new ways to help 12,000+ customers every single day, too. Join us (hr@v-trust.com).