Inspection Services and Audits in Myanmar
The Biggest Product Inspection Company from Asia

Inspection Services and Audits in Myanmar
Dedicated Team of Local Full-Time Inspectors and Auditors
V-Trust Inspection Service in Myanmar
In Myanmar V-Trust offers one-stop service for quality control, including pre-shipment inspection, during production inspection, production monitoring and container loading supervision.
V-Trust typically inspects products belonging to the textiles and apparel, furniture, houseware, and agriculture categories, as well as a growing number of inspections of raw materials and electronics.
Values We Deliver for Inspections and Audits in Myanmar
Only

full-time

local inspectors and auditors, no part-time or freelance, reducing bribery risks.

Management locally

 based in Myanmar
Guaranteed 

all-inclusive

 price of 268 USD per man-day in Myanmar's manufacturing regions.
No extra charge for travelling expenses.
No extra charge for inspections on weekends.
Inspection reports delivered within

24 hours

after the inspection; Same day reports also available.
About Myanmar
Myanmar Key Numbers
Population
54 million (2022)
GDP
59.3 billion (2022)
Export
21.88 billion (2022)
GDP growth
3% (2022)
*Source 2022 World Bank Report.
Myanmar's Manufacturing Industry Overview
Myanmar's manufacturing industry has been steadily developing, contributing significantly to the country's economic growth. With a diverse range of sectors, including textiles, food and beverages, pharmaceuticals, and electronics, the manufacturing landscape has shown promising potential.
The sector's expansion has been facilitated by economic reforms and foreign investment, leading to increased production capacities and employment opportunities.
While Myanmar's manufacturing sector is relatively young compared to some of its regional counterparts, it continues to play a vital role in the nation's economic development.
Myanmar's Competitive Advantages and Challenges
Myanmar's manufacturing industry has garnered several competitive advantages that have contributed to its growth and appeal to investors. These advantages include:
Abundance of natural resources, providing a strong foundation for resource-based industries.
Favorable geographic location, offering strategic access to regional and international markets.
Growing labor force, providing opportunities for a cost-effective and trainable workforce.
Ongoing economic reforms, attracting foreign investment and promoting business-friendly policies.
However, along with its competitive strengths, Myanmar's manufacturing industry also faces various challenges that need to be addressed for sustained development. These challenges include:
Infrastructure constraints, affecting the efficient movement of goods and services.
Limited access to finance, hindering investment and expansion opportunities for businesses.
Political and social instability, impacting investor confidence and decision-making.
Need for continued regulatory reforms and institutional development to enhance the business environment.
V-Trust, Helping Buyers Sleep Better!™
V-Trust Inspection Service Group operates in Myanmar to help overseas buyers select suppliers with confidence through supplier evaluations and overcome problems in product quality with product inspections and sample checks, while offering the advantage of a completely standardized quality control process with full-time inspectors and auditors only.
Highlighted Areas: 268 USD/Man-day (all inclusive).
Anywhere Else: 298 USD/Man-day (all inclusive).
No extra charge for inspections on Sat. & Sun.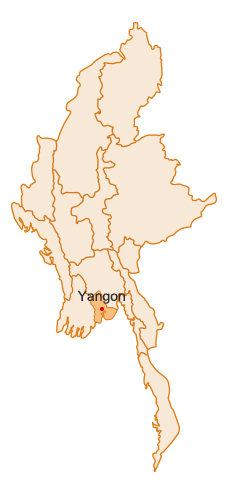 Yangon
Contact us now for more information about quality control or supplier evaluation in Myanmar.