Inspection Services and Audits in Bangladesh
The Biggest Product Inspection Company from Asia

Inspection Services and Audits in Bangladesh
Dedicated Team of Full-Time Inspectors and Auditors
V-Trust Inspection Service in Bangladesh
In Bangladesh, V-Trust offers one-stop service for quality control, including pre-shipment inspection, during production inspection, production monitoring, container loading supervision, social compliance audit and factory audit.
V-Trust typically inspects products in Bangladesh belonging to textiles, ready-to-wear garments, home textiles, and fabrics. We also inspect stationery and handcraft product categories, as well as a growing number of inspections on electrical & electronic products including home appliances, lighting, and industrial machinery.
For more information about the type and geography of Bangladeshi suppliers, you may visit our blog and this dedicated article.
Values We Deliver for Inspections and Audits in Bangladesh
Only

full-time

local inspectors and auditors, no part-time or freelance, reducing bribery risks.
Guaranteed

all-inclusive

price of 268 USD per man-day in Bangladesh's manufacturing regions.
No extra charge for travelling expenses.
No extra charge for inspections on weekends.
Inspection reports delivered within

24 hours

after the inspection; Same day reports also available.
About Bangladesh
Bangladesh Key Numbers
Population
164,689,383 (2020)
GDP
$324 billion (2020)
Export
$39.49 million (2020)
GDP growth
3.6%(Est 2021)
*Source 2020 World Bank Report.
World's Second Largest Textile Manufacturer
Bangladesh is well known for its production of readymade garments, comprising 90% of all national exports. In the textiles and apparel sector, it is competing fiercely with China for the title of the world's primary textile manufacturer, displaying a handful of attractive advantages to foreign buyers.
The first is low labor costs. There is hardly any country in Asia that can match the low labor charges of Bangladesh (USD 96.5/month, while in China its USD 233-348/month). In addition, the manufacturing sector is powered by a huge workforce, who are willing to be employed in the most developed sector of the country's economy. Lower labor costs keep the manufacturing costs down, and prove to be an attraction to the country's top exporters – US, Germany, UK, France, Netherlands, etc.
As a Least Developed Country (LDC), Bangladesh also benefits from national and international trade policies, such as duty-free quota and free access to the exports from EU, US, Canada, which are helping to make Bangladesh's manufacturing infrastructure more technological, socially compliant, and ecological.
Challenges for Bangladesh Market
Even though the labor costs are lower, the workers are less skillful and not aware of advanced production techniques, which results in lower manufacturing quality. Due to this reason, Bangladesh is losing to the competition, as its counterparts in China and South-East Asia are using innovation and technology to raise production quality.
Besides, Bangladesh's manufacturing success is highly dependent on imports of raw materials, such as fabric, yarn, cotton, iron, steel, and plastics from abroad – mostly from China, India, Indonesia, and Singapore. As a result, the country's manufacturing sector and economy are becoming unstable, due to the rise of raw material costs and disruptions in the supply chain.
V-Trust, Helping Buyers Sleep Better!™
V-Trust Inspection Service Group operates in Bangladesh to help overseas buyers select suppliers with confidence through supplier evaluations and overcome problems in product quality with product inspections and sample checks, while offering the advantage of a completely standardized quality control process with full-time inspectors and auditors only.
Highlighted Areas: 268 USD/Man-day (all inclusive).
Anywhere Else: 298 USD/Man-day (all inclusive).
No extra charge for inspections on Sat. & Sun.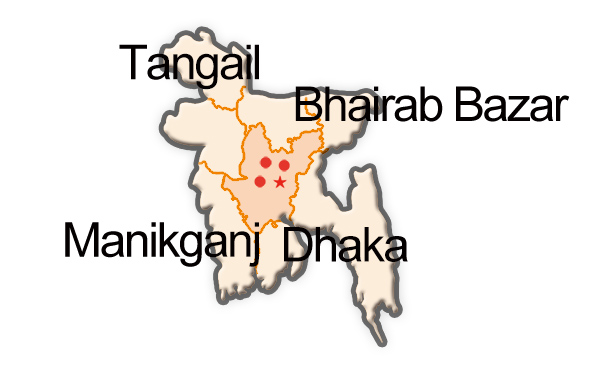 Dhaka | Tangail | Bhairab Bazar | Manikganj
Contact us now for more information about quality control or supplier evaluation in Bangladesh.