Inspection Services and Audits in India
The Biggest Product Inspection Company from Asia

Inspection Services and Audits in India
Dedicated Team of Full-Time Inspectors and Auditors
V-Trust Inspection Service in India
In India, V-Trust offers one-stop service for quality control, including factory audit, pre-shipment inspection, during production inspection, production monitoring, container loading supervision, and social compliance audit.
V-Trust typically inspects products in India belonging to apparel and footwear, home decoration, furniture, jewelry, auto parts, stationery, and handcraft product categories as well as a growing number of inspections for electrical & electronic products including home appliances, lighting, and industrial machines.
For more information about the type and geography of Indian suppliers, you may visit our blog and this dedicated article.
Values We Deliver for Inspections and Audits in India
Only

full-time

local inspectors and auditors, no part-time or freelance, reducing bribery risks.

Management locally

based in India.
Guaranteed

all-inclusive

price of 268 USD per man-day in India's manufacturing regions.
No extra charge for travelling expenses.
No extra charge for inspections on weekends.
Inspection reports delivered within

24 hours

after the inspection; Same day reports also available.
About India
India Key Numbers
Population
1.38 billion (2020)
GDP
$2.62 trillion (2020)
Export
$474 billion (2020)
GDP growth
8.3%(Est 2021)
*Source 2020 World Bank Report.
India's Manufacturing Industry Overview
India's manufacturing industry has gone through several stages of expansion through the years. The manufacturing industry in India now accounts for 16-17% of its GDP and employs around 12% of the country's workforce. On September 25, 2014, Prime Minister Narendra Modi launched MII (Make in India) initiative with the goal of increasing India's contribution of manufacturing to GDP to 25%.
Under the MII scheme, the government plans to create global manufacturing champions across 13 sectors and has allocated $27 billion over the next five years, starting from 2021.
India's Competitive Advantages and Challenges
With an increasing share of young working population, India can achieve its full manufacturing potential as it looks to benefit from its demographic dividend and a large workforce over the next two to three decades. Also, India has achieved:
High investments from foreign manufacturers.
Rapid increase in the export levels.
Low cost and cheaper labor compared to China.
And the challenges India manufacturing faces are:
Low quality compared to other major manufacturing regions such as Europe, North America, and China.
Low productivity from the labor force.
Low investment in R&D field.
V-Trust, Helping Buyers Sleep Better!™
V-Trust Inspection Service Group operates in India to help overseas buyers select suppliers with confidence through supplier evaluations and overcome problems in product quality with product inspections and sample checks, while offering the advantage of a completely standardized quality control process with full-time inspectors and auditors only.
Highlighted Areas: 268 USD/Man-day (all inclusive).
Anywhere Else: 298 USD/Man-day (all inclusive).
No extra charge for inspections on Sat. & Sun.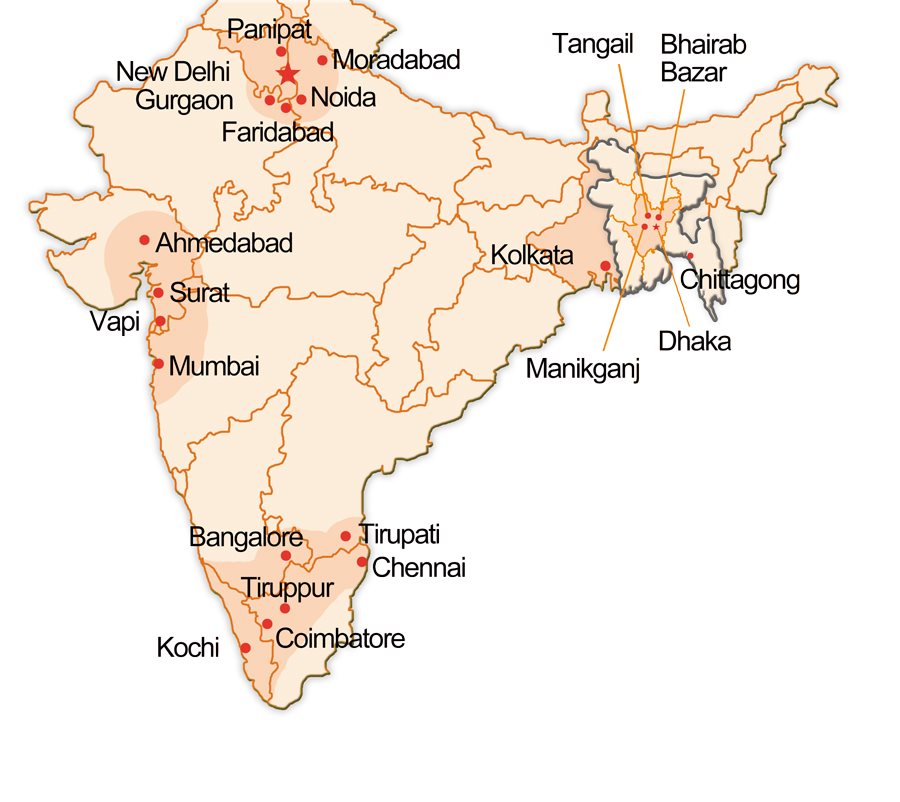 Ahmedabad | Bangalore | Chennai | Coimbatore | Faridbad | Gurgaon | Kochi | Kolkata | Moradabad | Mumbai | New Delhi | Noida | Panipat | Surat | Tirupati | Tiruppur | Vapi
Contact us now for more information about quality control or supplier evaluation in India.